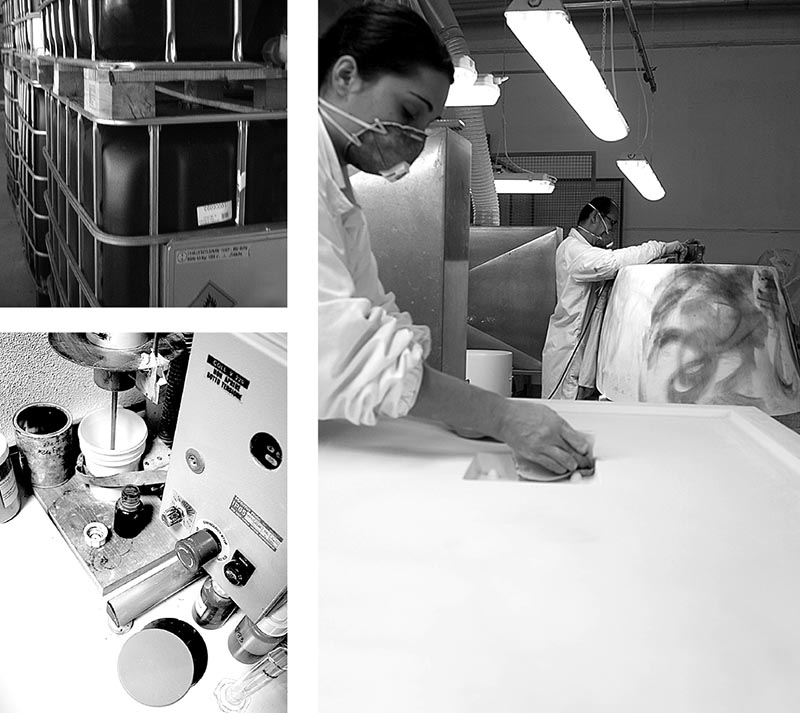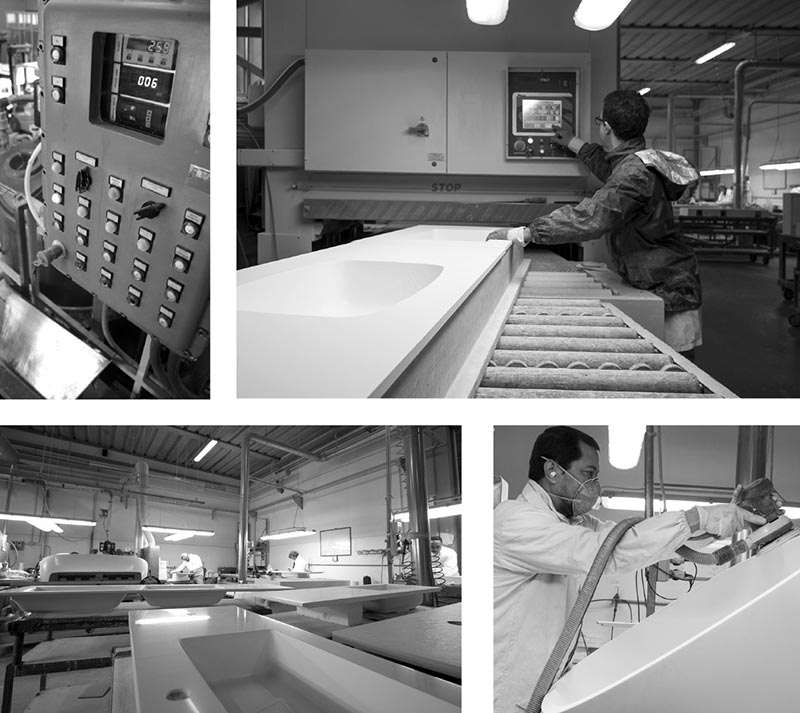 MONOLITH
In 1997, Casabath launched Monolith, the first solid bathroom surface in Italy. Manufactured by Casabath for over 20 years, Monolith is used to make tops, washbasins, shower pans, bath tubs and furnishings.
Monolith is a man-made material, composed of carefully-selected, mineral-rich polyacrylic resins (Aluminium Trihydrate) moulded through a polymeric process. The result is a superior material which is much better than slab materials; it is even textured: the colour and texture of Monolith is perfectly even, from the surface to the inside.
This exclusive Casabath product is so flexible because all of the production cycle takes place within the company, from development to blending, from moulding to the final hand-made finishing.
For the final polishing, abrasive papers up to 2000 grit are used. This last procedure give to the product similar characteristics of lacquering, in terms of color and touch feeling, but with advantages of solid surface.
This final phase makes the Monolith a unique product in the world of solid-surfaces.
The production process begins with blending the ingredients according to our formulations. Then, Monolith is cast into the moulds, and the product that comes out of them is therefore one single cast, so it does not have to be glued together as opposed to slab-made products which may eventually discolour or crack.
In our products, any welds that may be needed to produce very large tops are made of the same material as the top, of the same blend, so the colour and strength will be exactly the same, even after a long time.
Then, the products are finished, and this is what makes all the difference compared to similar products.
Once it has set, the top or washbasin is ground by a NC workstation, then it goes through some machines that polish the flat parts with 4 sandpapers with 150 to 1000 grits.
At this point, the top is already perfectly gauged, its thickness has been ground down, and it can go on to be manually finished. This includes the inside of the washbasin plus a final polish through the same sequence of sandpapers up to 2000 grits.
Such long finishing process, which may take as long as 8 hours for a bath, is one of the reasons that makes our products immediately stand out, compared with competing products. Over time it's possible appreciate the quality, the value attributable to even simply in weight, the structural thickness range is between 22 and 27mm, characteristic that gives to the product high solidity and stability.
The maintenance of the items in Monolith is simple: it is only necessary the foresight to always dry tops and washbasins to prevent the stagnant water from forming limestone halos, that anyway is not able to attack it.
They can be cleaned daily with ordinary non-abrasive cleansing creams or anti-calcar diluted with water.